Uchū Hospitality: Sushi On Jones To Open New Location In Midtown Food Hall
The sushi restaurant, known for it's 30-minute tasting menus, is Urbanspace Vanderbilt's newest vendor.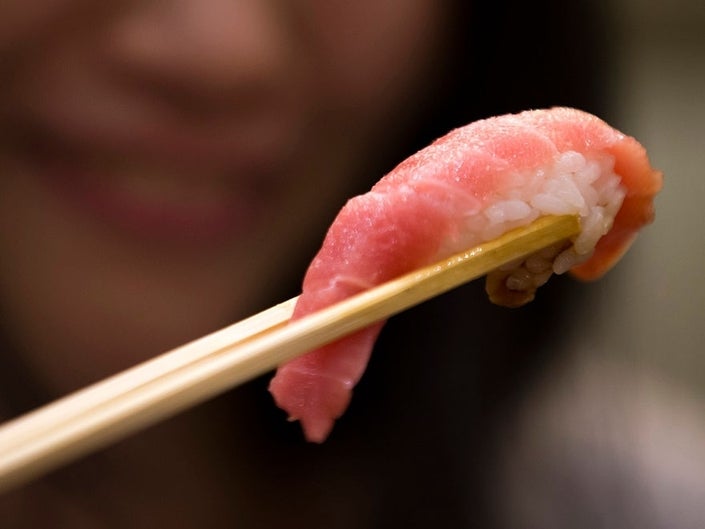 Sushi on Jones opened Monday to be come Urbanspace Vanderbilt's newest vendor. (Tomohiro Ohsumi/Getty Images)
MIDTOWN MANHATTAN, NY — A sushi restaurant that offers 30-minute tasting menus is the newest vendor at one of Midtown Manhattan's busiest food hall.
Sushi on Jones will open its fourth New York location Monday, Oct. 14 inside Urbanspace Vanderbilt near Grand Central Terminal, the food hall announced this week. The vendor will be the first in the food hall to offer reserved seating.
Diners can begin making reservations at Sushi on Jones' new location on Wednesday, Oct. 9. The location features a four-seat omakase counter where diners can take in either a 12- or 16-course tasting menu.
"Known for its approachable 12-piece omakase tasting served in 30 minutes, Sushi on Jones at Urbanspace Vanderbilt will feature a four-seat omakase counter where guests can enjoy an elevated dining experience in a more relaxed setting," reads and Urbanspace press release.
Sushi on Jones' 12-course menu features fish such as hirame, albacore, hotate, arctic char, and ika and the 16-course menu features scallop, botan shrimp and eel. Diners can also order a-la-carte dishes such as Sushi on Jones' take on the Big Mac and air-fried crispy rice. The new vendor will also offer beverages such as beer and sake.
The Urbanspace Vanderbilt Sushi on Jones will also be the restaurant's first location to offer grab-and-go boxes featuring a combination of Nigiri and Maki sushi. Sushi on Jones' three other outposts are located on the Bowery, West 10th Street and in Williamsburg.